Monday, July 2, 2012
1
02
/

07
/

Jul
/

2012
1:19 PM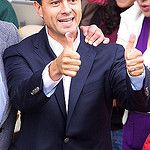 It is called therefore
Enrique Peña Nieto
, Was born in 1966 in Atlacomulco in the State of Mexico, and has followed the studies of lawyer. It is today the new president of the Mexican republic, arrives at the head of the elections to this 1
ER
July 2012 with some 37.29 % of the votes, against 32.60 % for AMLO'S AMLO (Lopez) and 25.36 % for Josefina Vazquez Mota, the lady of the PAN.

In 1993, he married Monica Pretelini, which he had three sons, and that he was widowed in 2007 after she succumbed to a fatal cardiac arrhythmia consecutive to epilepsy. The November 27, 2010 , he married in seconds wedding the actress Angelica Rivera.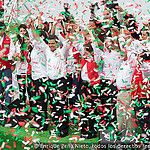 His first statement of "new president" was to ensure that there would "
No return to the past
"After the reservations expressed by both the international press , by the anti-NPT, on the relations "special" maintained by the PRI with democracy.
Note that the South of the country has voted overwhelmingly Lopez AMLO (especially in the State of Oaxaca) while the Chiapas has stored behind the new president victorious.
Authorized Images from the official site of NPT,
Http://www.enriquepenanieto.com