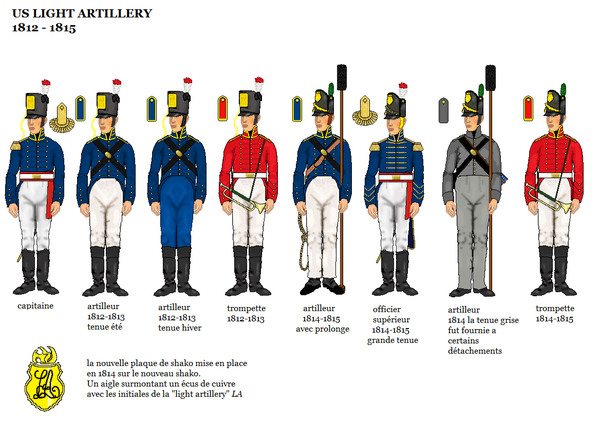 Déja studied in detail here:Les uniforms of the light artillery on 1812 / 1814
The light artillery is in fact the only unity of artillery on horseback of the US ARMY, recreated in 1808, it was with the regiment of artillerists the only professional elements of the American army in the release of the war.
As only unity of artillery on horseback, this regiment acquired a status of elite within the army and will be kept during the conflict.
Quite as the regiments of artillery on foot, the unity will be scattered on the various theaters during the war.
The uniform:
His uniform consisted of a short blue jacket with three rows of yellow buttons, a white or blue panties according to the season with ankle-boots or shoes when the wide pants are carried. The shako is of the model "Yeoman" which we find at the 1st rifle. Collars are equipped with yellow laces, the officers carry the red scarf around the waist as well as the shoulder straps. Trumpets carry a holding red but got away in a identical way from the troop.
In 1814, the regiment received its new uniforms which in fact consisted of the adoption of the "tombstone" shako, the rest remained unchanged. Grey dresses of fortune were also given in detachment operating on the northwest border undergoing the same constraints uniformologiques as the infantry.
The shako "tombstone" carried a small brass plate different from that of the classic artillery in the shape of ecu surmounted of an eagle. The shako was surmounted, besides, by a green plume instead of the white and carried a yellow cord with yellow pompom.
There n is no representation of a non-commissioned officer on the board, but we can suppose that he distinguished itself besides from the troop by the port of yellow shoulder straps, from a red belt around the waist and from a straight sword. Belts are represented blacks but could be white because it is a question of one of older regiment of the US army.