Tuesday, July 17th, 2012
2
17
/

07
/

July
/

2012
11:34
" This drawing took me five minutes, but I put sixty years to arrive there. "
Of
Pierre-Auguste Renoir
Sacré Renoir, which impressionist, impressive!!!
I return in these stricken parts of the country (my blog yes ...), to show you some drawings realized on the stand of Comicverse, to the last one Japan exhibition / Comic idiot! Yes yes, I was there, thanks to everything those who did not come and even more thanks to all those, numerous who they came, follow my glance! Certainly I would have been able to warn here as well and not as on facebook, not to bang...
I wanted to make a small bill above, well, as I have not too much the time at the moment... What I can say, always very acceuillante team of Comicsverse! A heap of more talented buddies some than the others (saligots hold!), a good atmosphere, many draws drawing!
As we often ask me for Wip (work in progress, for you which follows not at the bottom! " It is what a work in progress Isma? ", euh... Ben it is a current work. A drawing work in progress is a drawing in progress, not yet finalized, it is good?), in here is a very fresh!
Already, thanks to Sebastien for these these photos, you go to be able to have diverse stages of a drawing! Tops hearts, it left, first command, a Beauty queen Hulk;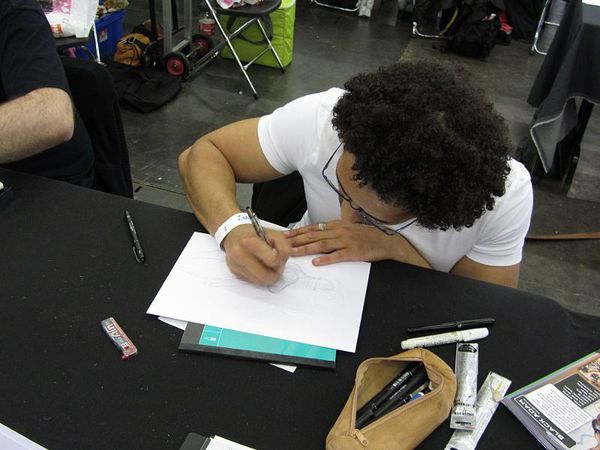 Charming plan on my attractive wig, we can well notice that I have a hole in the middle of the gallant!!!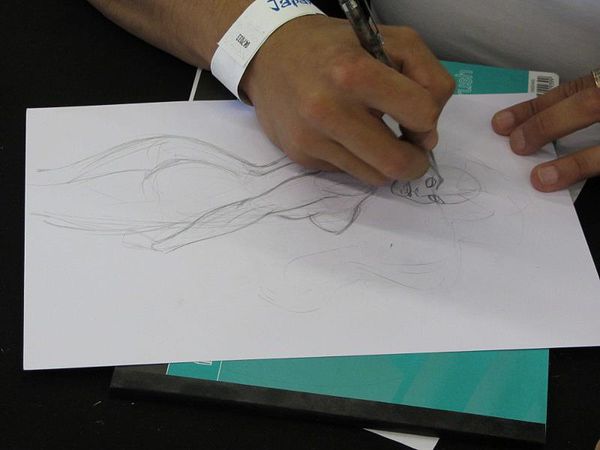 Eyes, always acrobatic stage when we draw a feminine face, indeed, 1mm of error can change everything the soft face of the feminine face!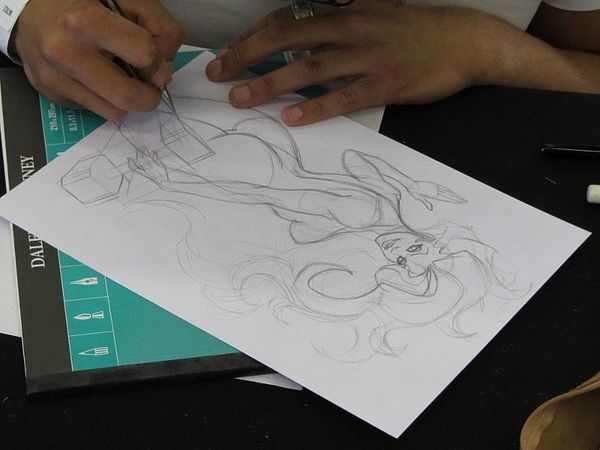 The general shape, the anatomy and the attitude is put, let us cross in accessory digging the character and his personality, here one distort!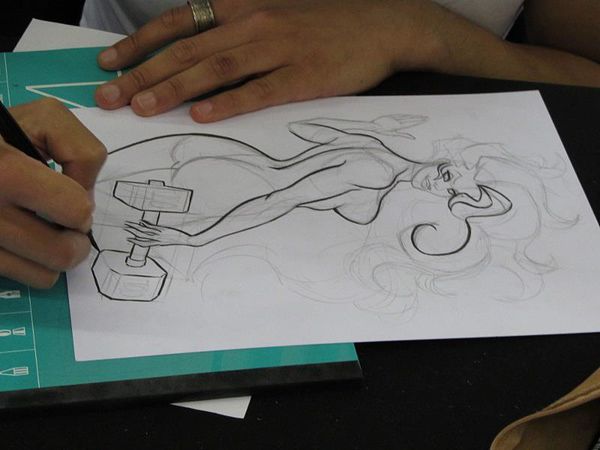 It left for another precarious stage, the inking, the pen-brush which I use is completed to return the sweetness of the feminine outlines! But not the right has the error, the accoup and the drawing becomes rough and the sweetness is lost!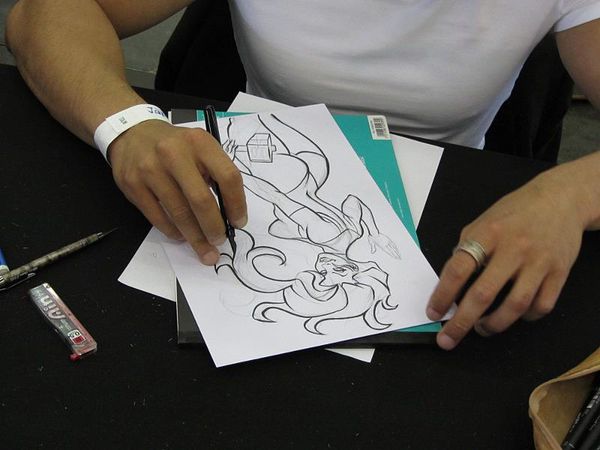 Hair... Arf... I would have had to work them more on the outlined, I miss mark, notament the light, which must be totally coherent with the rest of the body, the hash!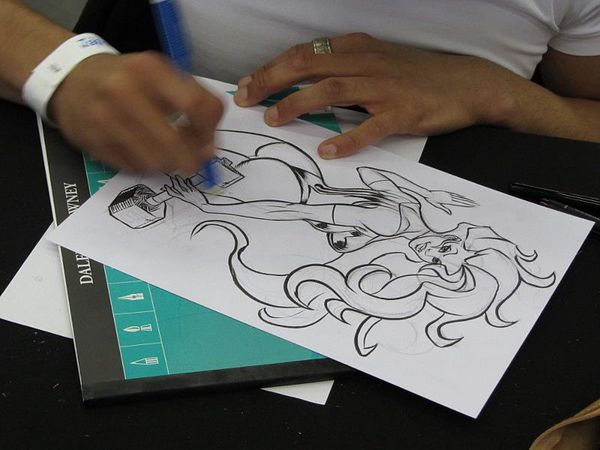 Yes, I beat around the bush there, fortunately, there is a gum!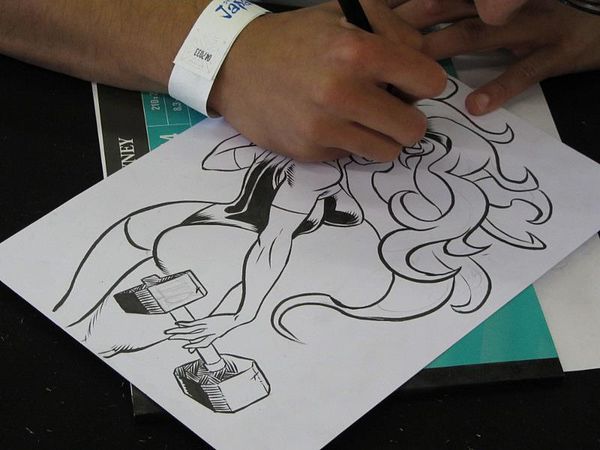 Finally, I attack hair and their material! For a character so physical, this very static pose, it is absolutely necessary to find some sweetness and the movement, and there I say, thank you hair!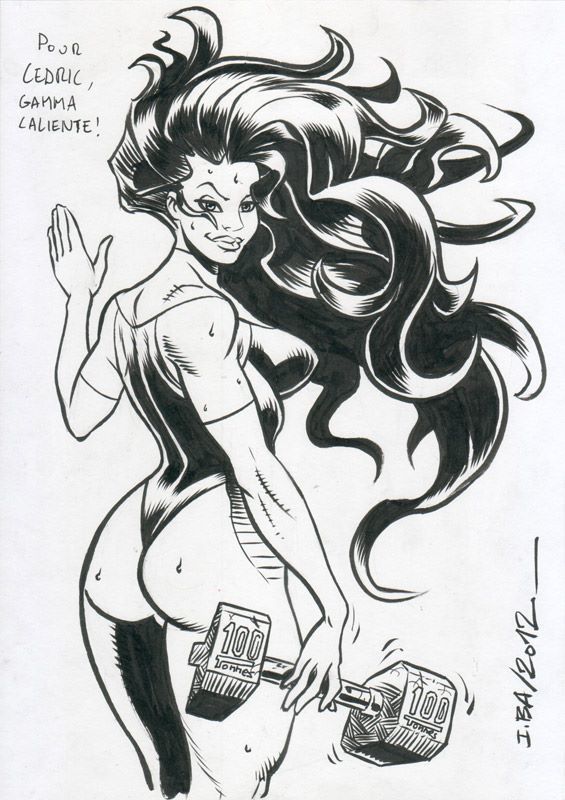 The finalized drawing, with some details moreover, of the transpi, the movement! Voili Voilou for today, I hope that that will have pleased you, bye for now!
Isma