March 5th, 2014 3 05
/0

03
/M

March
/2

2014
17:16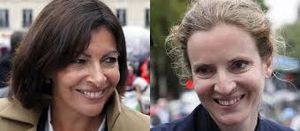 We know RMC and especially we know Bourdin, egocentric person and conceited. Thus but was going to make what Anne Hidalgo in this well known and despicable galley of RMC and TV BFM, the information Gutter, consisting in releasing most blunder in the shortest time. It is not a debate of idea, but a competition of sound and very fat farts.
Did we assess years Delanoë / Hidalgo in the city hall of Paris? No. Did we review the program of the socialist candidate in the post very desired of Mayor of the capital? No. Did we try to discern what separates her from Nathalie Kosciusko-Morizet's proposals? Of course not.
Opening of Bourdin: "I saw posters caricaturing you in Paris (...). You asked us to remove them?"". We see him the information is considerable, for the Parisian it is a question of life or death, which it is a question. The guy Bourdin can be proud to have raised such an affair, nothing to do with a secret account in (pitiful) Switzerland or confidential recordings of a former president of the Republic (young), or another excessive overcharging to "friends" to liven up the campaign of (self-important) Nicolas Sarkozy.
He follows itself a real hand-to-hand fight to try to solve who had been able to give such an order … Bourdin is proud, he feels that he puts in trouble the PS candidate, we speak about e-mails exchanged on this matter, the survey deepens … we approach the truth. Other guys are on the affair, about which Lab of Europe 1 … the truth must be said … or at least encircled. It frightens …
Like that was not anymore enough, Bourdin starts another hare so monstrous. All this time, those who hoped to be able to get an idea on the bottom of the campaign always get nothing for their trouble there. Madam Hidalgo, is he true, that once elected you go to accumulate your pension with mayor's compensations of the capital? Anguished silence … and very yes, the interested in conformance with its activity to the factory inspectorate where it made a large part of its career is going to affect some public service a pension to the amount of 1 768 euros a month, tax-free. How much Mrs Rocard, Juppé to quote only they touches of pension of the service public as former tax inspector, the former Prime Minister, etc. …
Salaries and Michel Rocard's pensions amount to 16 100 euros rumours a month, without counting the stamps of his conferences.
For Alain Juppé, it represents 15 337 euros crude oil a month, without counting copyright. As for Chirac we are there, quite accumulated in 30 000 euros a month.
Yes this woman, is going to dare to accumulate 1 768 euros of pension with mayor's compensation of Paris which is of 8 684 euros crude oil a month. In brief there is well scandalous material, no, without laughing?