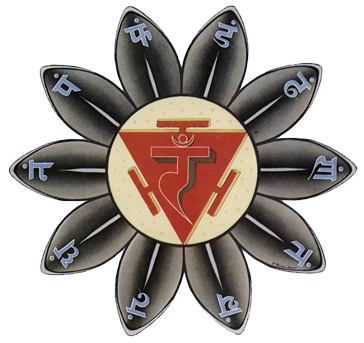 In the root of the navel, irradiant of its ten petals, is the Lotus for the brightness filled by heavy rainy cloud (of black color).
In this chakrâ is the mandala Vaisvãnara ( the fire(light)), similar to the orange-coloured sun of the east (similar at sunrise), this triangle outside of which are three marks(brands) named swastika. There is the bîja of the fire(light) RAM.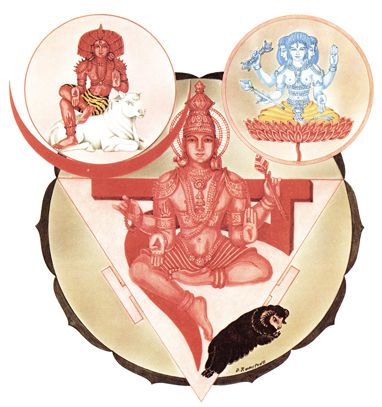 In the bîja of the fire(light) is Rudra of vermilion color sat(based) on the ram, such the fire of the new sun, from whom spring the flames of four arms.
What it is necessary to hold(retain) above all, at first, to visualize(display) Manipûra Chakrâ in the techniques of Hatha Yoga is:
6 petals of the black lotus of color, the fire(light), the red triangle. And The bîja RAM.
More details concerning Manipura Chakrâ on the blog Nataraja { Nataraja}
The text is extracted from the study of Tara Michaël " subtle Body and causal body " edt The Mail of the Book
And the enseignments of Yoga nâtha