Saturday, October 1st, 2011
6
01
/10
/ O

ct
/2011
09:51
Nyâsa Energy massages associated to breaths and mantrâ are which we use to stimulate the energy, to calm the mental and to stabilize the breath.
They also have relaxing therapeutic incidences and deep méditatoves.
Mostly we have a practice Nyâsa In the main chakrâ but they can be made in any part of the body as for example the joints(articulations), the ligaments or for the other troubles.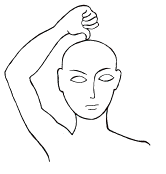 We call Nyâsa « The act to press with the thumb(inch) or the hand on a certain part of the body or on an object to mean that we impose it one Mantrâ»
The imposition(taxation) of Nyâsa Modify the various energy networks ( Nâdî ) Presents as much in the body of the follower as in the whole of the cosmos because the body is a microcosm of the universe. In brief, by executing NyâsaThe yogi bounds, increases, decreases or destroys(annuls) a given energy.