Sunday, October 9th, 2011
7
09
/10
/ O

ct
/2011
08:00
Nata = Dancer, actor
NataYoga is The expression of her(it) Eternal dance Of Shiva (1st yogin) Often indicated(appointed) as Tândava (ava's tan) Of Shiva Or of the dance Of Shiva Strong Which is the source(spring) Of the cycle of her(it) Creation, the conservation And the dissolution
.
Nâtha = Maitre, protector
Nâtha-yoga is Bound(Connected) to the order of Nathayogin based(established) by Matsyendranãth and among whom one of the most illustrious representatives was Gorakhnath who lived in the XIth orth XIIth century.
Nathayoga is in connection with Shivaïsme.
And Hâtha-yoga in all this?
It is the strong practice of Nãthayogin in the direct line of the yoga of the origins.
The way of Nãthayogin is the lineage of the most former(ancient) transmission.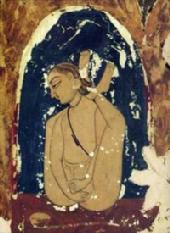 Nãtha-yogin