Tuesday, September 6th, 2011
2
06
/09
/ frog
/2011
08:00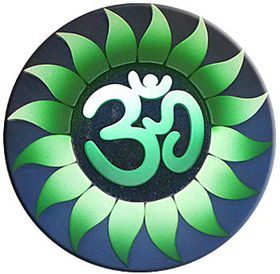 The Syllable Was crowned "OM", or "AUM" symbolizes the essential Sound, the creative eternal Verb.
Source(Spring) of the beginning of time(weather), "OM" contains all which was, is, and will be.
It is the Gasoline(Essence) of the whole Universe.
It is the most precious Mantra which is, the Mantra of the mantra.
In our practice of Hâtha-yoga, we use the sound OM, it replaces even all other sounds when we forgot which one(which) to use, which one(which) to hear(understand) mentally, it is to say its high importance in terms of meaning, vibration.
OM is declined in three sounds A - U and Mr. corresponding to three levels of the mental:
In him(it) conscious
U the subconscious
M the unconscious
The fourth state- Turya - The transcendental is symbolized by this unpronounceable and inaudible "Om" which contains everything and which is beyond three others, according to Mandukya Upanishad.

In also symbolize the waking state. What is shown under all its forms including the most subtle (Energy, flow(flows) of consciousness, spaces of kosha).
In is also a creative sound which realizes the "Shapeless" in perceptible forms through the senses(directions). Sound of expansion par excellence, Big Bang was probably only an immense "A" generating this universe in perpetual evolution which not in finity more to extend and to complicate.
In is the sound of the knowledge and the perception(collection) of existing shown.
He(It) concerns everything, the microcosm and the macrocosm.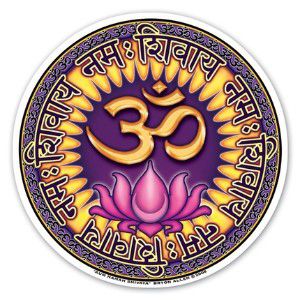 " In the heart of the meanders of the brain, such a sunbeam, glistens the sound " has "(" has). Within it, is the sound "u", printed by lunar magnificence, as well as the sound "m", similar to a fire(light) without smoke, to a flash of lighting.
Yes, three syllables shine, respectively as the Moon, the Sun, or the celestial fire(light).
And above, perched on the point(headland) of a flame, such a torch, is held a deep light. Know him(it), it is the half-syllable, that we put diagrammatically over three syllables. "
Bhrama-Vidya Upanishad
Sources(Springs):
Extracts of the text " OM the mantrâ of mantrâ " of Patrick Torre
Extracted of her(it) Bhrama-Vidya Upanishad On the site 108 Upanishad