Friday, March 25th, 2011
5
25
/03
/ March
/2011
08:02
The winter the metabolism slows down, the waste accumulates. In spring, our body needs a cure of in-depth cleaning to find its tonus and leave(restart) for an annual new cycle. He(it) is then interesting to drain profoundly the body to clean cells(units), ease congestion in the overstrung organs, put in the rest the small intestine, relieve the liver and the natural émonctoires (intestines, loins, lungs, skin).
HE(IT) exists a whole lot of receipts(recipes) to make this drainage. The aromatherapy proposes a very effective cure with the Essential Oil of Rosemary to Verbénone. His(her,its) taste is fresh(cool) and pleasant.
The rosemary is a strong perennial, in sheets(leaves) grey-green in the shape of needles and which carries(wears) flowers whitish in blue and estimates(appreciates) the marine climate. The geographical origin determines strongly its biochemical composition.
• anticatarrhal, mucolytique • healing and regenerative cutaneous • regulating nervous and cardiac • regenerative hépatocytaire and to draineur hépatobilieux • regulating endocrine important • lipolytique.
The rosemary in verbénone supplies a remarkable essential oil to cleanse the body.
To make in March and in September, a treatment of a cure of 3 weeks at the rate of 2 drops(gouts) on 1/4 of sugar cube of cane or a spoon of honey every morning.
She(It) is also of a good support in case of depression.
We can also use him(it) by cutaneous way: 3 drops(gouts) on the solar plexus or the face interns wrists or the arch of the foot (to renew at the need).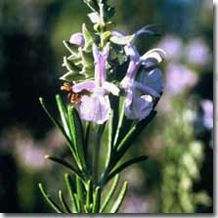 Particular precautions:
No custom(usage) prolonged without the opinion(notice) of an aromatherapist.

• to Hold out of reach young children • This product cannot substitute itself for a well-balanced diet • not to exceed the advised(recommended) dose • Except opinion(notice,opinions,notices) of the doctor or the pharmacist, not to use during the pregnancy and the feeding and at the child of less than 3 years • To keep(Preserve) shielded from any source of heat and some light.