Monday, September 19th, 2011
1
19
/09
/ frog
/2011
08:14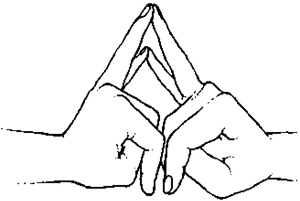 Shakti Mudrâ
The gesture(movement) of Shakti, goddess of the energy of the life
Shakti Mudrâ A gesture(movement) of the hands is which has a painkiller effect and a help(assistant) to the tiredness.
Shakti Mudrâ Bring a pleasant relaxation in the pelvienne region and thus is useful in case of cramps in intestines and of menstrual pains.
And finally, Shakti Mudrâ Intensify The impulse Respiratory tracts In the zone Subordinate of the breast.
Place your fingers Ring fingers and little fingers together.
Other fingers are Slightly folded And Thumbs(Inches)Take place In the palm(real tennis) of the hand.
Concentrate on your breath In the pelvienne region.
Leave your expirations of + + slow and deeper.

To have a practice during about ten minutes to feel it of real bienfaîts. And meanwhile, closed eyes, visualize(display) images of green color, in the soft and fluid forms such as a landscape, sheets(leaves), silk scarf...