11.20.2010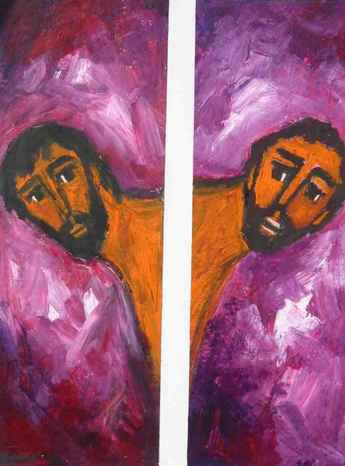 We celebrate a crucial moment of human history: Jesus Christ is crucified on Calvary. From a human point of view, it is a disaster. It is the humanity which rejects and which removes his Creator, Savior and his God.
And yet, with the whole Church in the world today we are celebrating the universal kingship of Christ. The kings should they not be powerful to be able to govern effectively? Should they not be victorious? Then why we have before the eyes a man impotent, pitiable, suspended to a cross?
It is because the Cross is the throne of our King. The Christ is not sitting in one of these velvet armchairs, upholstered, gilded and diamonds, as the kings of this world which past ; he reign of the Cross.
How does it do this? How this sign of defeat scathing can it be at the same time the sign of the definitive victory of our King? That is what John Paul II called the paradox of the Kingship of Christ. This victory is inaugurated in this world, but it is not of this world. It started in the course of his disciples, Christians like you and me, of all those who believe in him and obey him. The Church and the saints are living signs of this kingdom, as the buds are the early signs of the tree canopy.
As well, such as the Kingdom of Christ transcends this world, we can understand that his throne is different from the thrones of this world. The Kingdom of Christ is based on the irresistible power of the unconditional love of God for each of us. On the Cross, Jesus reveals to us this love by suffering and dying to save us, even though we are still sinners. In the Resurrection, this irresistible power bursts to the big day. That is why our King reigns on the throne of the Cross.
The good thief has understood this very well. The bad thief, him, he has understood nothing at all. Pilate and Herod, those who govern the world, have understood nothing not more ...
To read the result of the homily, click on the logo Praedicatho:
17:54 Écrit par Père Walter dans Homélies 2009-2010 (année C) | Lien permanent | Commentaires (0) | Envoyer cette note | Tags : evangile, ecriture, bible, homelie, chrit roi, dimanche, liturgie, croix, bon larron |
|
Del.icio.us |
|
Digg |
Facebook |