The ideal period for the taking of cuttings of rosebushes is of in the middle of August in September but if you missed the season or if you want "to recycle" your autumn sizes of your rosebushes, you have a retake in the autumn.
Attention nevertheless, most of the marketed varieties are protected and must not be multiplied for commercial purposes.
On the demonstration photo, it is a dog rose bush (Rosa canina) to being able to test transplants later.

You will need: of stalks to be taken a cutting, of compost, sand, jar terra-cotta and of a good clippers.

First of all select your stalks that you go propagate from cuttings If you have the choice, select straight and strong, not too wooden stalks (aoutés) or too soft. The best is to choose a stalk containing few thorns to facilitate the cutting.
Once your stalks were cut, prepare a mixture of compost and sand which you will mix.
Fill a jar terra-cotta deep enough of this mixture. A plastic jar or a box can obviously be enough but the jar terra-cotta will be healthier for the roots of the young cuttings.

Cut with a sharpened well clippers your stalk under a "knot". A knot is the location where was a former sheet (there is a perpendicular scar in the stalk) and where is situated a latent bud. This location is ideal for the cup because it is the place where the vegetable can most easily produce new roots.

Now cut the high part, 20 cms rather in bevel and this time this over a knot.

Bury your stalk of half on the outside of the jar. He is to note that the rate of resumption is stronger on the side of the jar than inside.
You can add of the hormone of taking of cuttings that you will find easily in the stores of gardening.
To note: if you have a doubt of the top and the bottom of the stalk, look at the knot: the scar is of the low side and the bud high side.

Renew the experience as often as you wish.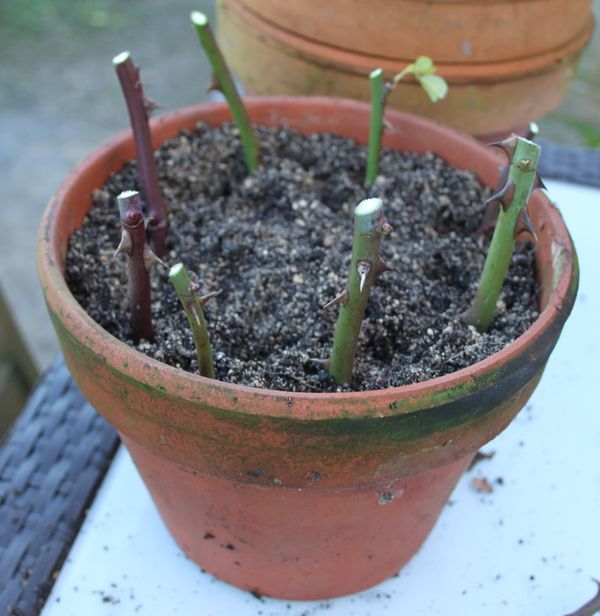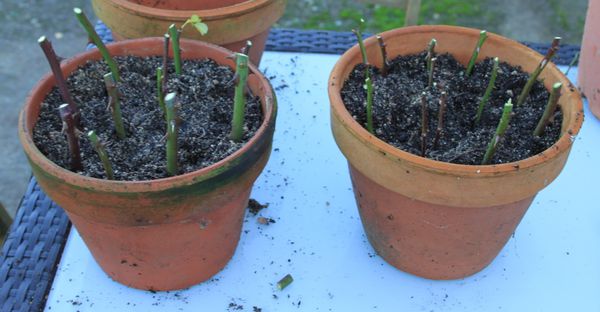 Put your jars in "capacity" buried in the ground during all winter. The ideal is in a protected but not dry place as along a wall, under a persistent shrub, covered with dead leaves, etc....
Water abundantly the jar inside and the outside to fill the earth.
Good taking of cuttings to all!
Do not hesitate to post a comment by clicking the tab this below if you have questions, remarks, etc....